EMI-Protected NTC Thermistor
With the increasing complexity of electric systems and density of electronic components in modern vehicles, conventional NTC thermistor sensor technology are vulnerable to stray electromagnetic interference (EMI), causing self-heating.
Amphenol Thermometrics UK Ltd has developed noise-immune NTC thermistors with an integrated RF de-coupling function, providing EMI protection at the component level over a wide frequency range.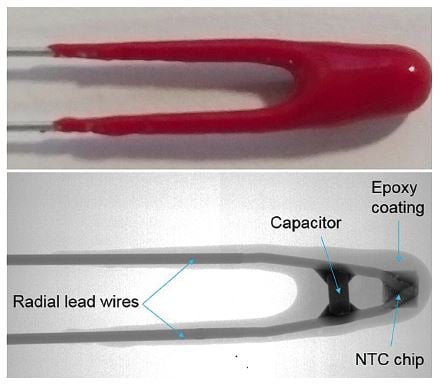 Features
NTC element-level EMI protection
Drop-in upgrade for existing applications
Reduce your system costs:
EMC-tested to GMW30974 / IS) 11452
Range of conformal coatings available
Fast time response
Applications
EV/HEV/PHEV markets
Battery temperature sensing
Existing automotive - upgrade
Drive systems
HVAC
Air intake/coolant
ORDERING INFORMATION
Amphenol electric vehicle sensors can be custom designed to meet the exact specifications and demands of application.
Speak with one of our engineers today about your sensor technology needs.
Take This Page With You
Download a PDF of this product's information. Fill out the form below: