NovaSensor P165
---
3F Medical Absolute Pressure Sensor Die
NovaSensor P165 Medical Silicon Absolute Pressure Sensor Die is a piezoresistive pressure sensor die offered in a miniature 1150 x 675 mm die that is small enough for three French catheters. The small size is made possible by NovaSensor's proprietary Silicon Fusion Bonding (SFB) process. When excited with an AC or DC voltage source, the P165 produces a mV output that is proportional to input pressure. NovaSensor P165 is in a halfbridge design, where external resistors are needed to complete a full bridge configuration.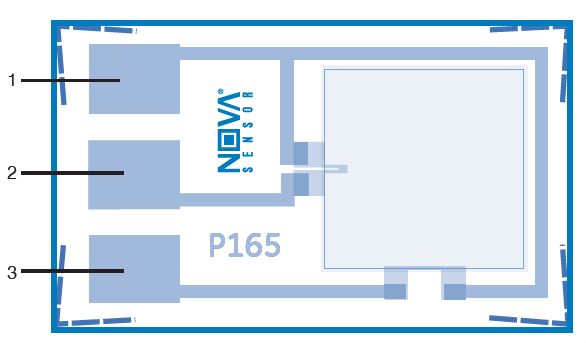 IUP
Intracranial
Disposable Pressure Catheters, including Intrauterine, Intracranial, and Body
Very small in size
Absolute pressure sensing
Standard pressure range of 700 to 1050 mmHg (Absolute)
AC or DC excitation
4000 mmHg burst limit
Performance Parameters(1)
Value(4)
Units
Notes
Pressure Range
700 to 1050
mmHg
Absolute
Operating Temperature
50 to 122
°F
(10°C to 50°C)
Excitation
1 to 8
Volts
AC or DC
Zero Offset
±12.5
mV/V
2
Sensitivity
12 to 27
μV/V/mmHg
2
Linearity and Pressure Hysteresis
±2% of reading or ±1 mmHg, whichever is greater
%FSO
3, 4
Temperature Coefficient of Zero
±40
μV/ V / °C
Typical
Temperature Coefficient of Resistance
0.14
% /°C
Typical
Temperature Coefficient of Sensitivity
-0.15
%FSO/°C
Typical
Bridge Resistance
800 ± 20%
Ω
Symmetry
-2 to 12
%
5
Burst Pressure
4000
mmHg
Absolute
Media Compatibility
Clean, dry and non-corrosive gases
6

Values measured at 0.6 mA and 71.6°F (22°C) unless noted with 800 Ω1. Values measured at 0.6 mA and 71.6°F (22°C) unless noted with 800 Ωresistor between +Out and –IN, and –Out and –IN. Die performance willvary depending on die attach material. The die attach material shouldbe chosen to minimize package stress transmitted to the sensor die.
Zero offset and sensitivity at 750mmHg and 25C.
Extrapolated error at 300 mmHg by straight line through 0 and 100mmHg pressure readings
Topside pressure.
Symmetry is the difference between the two bridge resistor valuescompared to the average of the two bridge resistors: Rsymm=2 (R32 -R12) / (R12 + R32) * 100%
A protective coating must cover the sensor die for use with saline andother fluids.
| | |
| --- | --- |
| Part Number | Description |
| 51477 | 3F, 300mmHg Absolute |