Nova Sensor NPI-12 Series
---
Stainless Steel Media Isolated Sensors
The NovaSensor NPI-12 Series of Stainless Steel Media Isolated Sensors provide a cost effective solution for applications that detect tube blockages and pump performance. The NPI-12 Series is intended to mount adjacent to flexible tubing to sense tube expansion. Cleanliness is assured with the NPI-12 Series stainless steel finish.
The NPI-12 Series incorporates state-of-the-art IsoSensor technology, which gives the OEM user the best in price and performance. They are designed to operate in hostile environments while providing outstanding sensitivity, linearity and hysteresis. The piezoresistive sensor chip is housed in a fluid filled cavity and isolated from the measured media by a stainless steel diaphragm and body. As with many NovaSensor® silicon sensors, the NPI-12 Series employs SenStable® processing technology, which provides excellent output stability.
The NPI-12 Series offers many features with superior performance. The pressure sensitivity is calibrated at 0.20±0.01 mV/V/psi. The combined errors of linearity, pressure hysteresis, repeatability and temperature are less than ±4 %FSO. The maximum overpressure is 50 psi (3.44 bar). A five volt excitation is needed to supply power to the device. The operating temperature range for the NPI-12 Series is 50°F to 104°F (10°C to 40°C), while the storage temperature is -40°F to 158°F (–40°C to 70°C). Electrical connection is accomplished with a 4 pin connector that accepts standard 0.025 in (0.64 mm) square posts on 0.100 in (2.54 mm) centers. A red wire allows for easy recognition of connector orientation.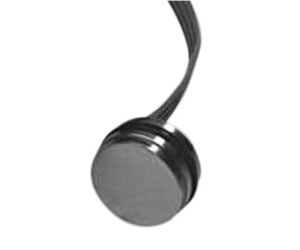 Level sensing
Automotive systems
Process control
Pneumatic controls
Hydraulic systems
Solid state, high reliability
Standard TO-8 package suitable for PC board mount
Low cost, small size
Available in gauge, absolute, and differential pressure versions
Media compatible with non-corrosive gases and dry air
Thermal accuracy FSO 0.5% typical
Overpressure capability to five times maximum rated pressure
Three standard ranges: 0 to 10 inH2O (0 to 25 mbar), 0 to 1 psi (0 to 0.06 bar), and 0 to 5 psi (0 to 0.34 bar)
Nonlinearity 0.05% FSO typical
Standard 3/16 in OD pressure port
Ceramic substrate with temperature compensation resistors
General Specifications
Parameter
Value
Units
Notes
Pressure Range
15
psig
Maximum Overpressure
50
psig
Operating Temperature Range
50 to 104
°F
(10°C to 40°C)
Storage Temperature Range
-40 to 158 (Dry)
°F
(-40°C to 70°C)
Weight
0.01
lb
(5g)
Media Compatibility
316L Stainless Steel
Diaphragm Dome Height1
0.000 to 0.008
in
(0.000mm to 0.20 mm)
Electrical Specifications
Parameter
Min
Typical
Max
Units
Notes
Excitation
5.0
volts
Zero Pressure Output
5
±%FSO
Sensitivity
0.19
0.20
0.21
mV/V/psi
Linearity, Hysteresis, Temperature Errors
4.0
±%FSO
3
Response Time (10% to 90%)
1.0
ms
4
Maximum change in diaphragm height relative to the edge of the sensor.
Supply current = 5 VDC and ambient temperature = 77°F (25°C), unless otherwise noted.
Best fit straight line.
For a zero-to-full scale pressure step change.
| | |
| --- | --- |
| Part Number | Description |
| NPI-12-101GH | 15psi (1.03 bar) |