NovaSensor FMA Series
---
Filtration Air Restriction Sensor (FAR)
NovaSensor FMA Series of Filtration Air Restriction (FAR) Sensors accurately measure the pressure loss across a variety of air filtration devices utilizing high accuracy NPA piezoresistive technology in a low-profile form factor that is easy to install and maintenance-free. Available in multiple positive or vacuum pressure ranges, mating with an integrated AMPSEAL 16 (3-way) electrical connector and 1/8-27 NPT female pressure connection port.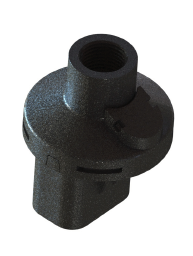 Engine air filtration systems
Cabin pressure
HVAC pressure
Exhaust pressure
Industrial filters
Supply Voltage: 5VDC
Linear Output: 0.5V to 4.5V (Ratiometric)
Diagnostic Features (Bridge Connection Checks, Bridge Short Detection, Power Loss Detection)
Temperature-compensated
Sealed AMP Electrical Connector
Multiple Pressure Ranges Available (Vacuum and Pressure)
Fast Response Time
REACH & RoHS Compliant
Electrical

Supply Voltage (VDD)

(1)

5 VDC +/-5%

Supply Current

5 mA Max

Output Voltage (V

O

)

(Ratiometric)

0.5 to 4.5 V (10% to 90% VDD)

Output Impedance

250 Ohms Max

Over Voltage

28 V Momentary Contact

Reverse Voltage

28 V Momentary Contact

ESD Rating

Contact: 8 kV; Air: 15 kV

EMC Compliance

RE (150 kHz - 3.2 GHz)

CI (30 Hz - 50 kHz)

BCI (10 kHz - 400 MHz)

RI (100 kHz - 3.2 GHz)
Performance

Accuracy

+/- 2.5% FSO

Resolution

0.12% FSO

Compensated Temp Range

0°C to 80°C

0°C to 60°C for 5"H

2

O

Proof Pressure

2X Full Pressure

Burst Pressure

3X Full Pressure

Vibration

20-2000Hz AT 11.5 Grms

Operating Temp Range

-40°C to 125°C

Storage Temp Range

-55°C to 150°C

Start-Up Time

10 ms

Response Time

< 2 ms

Intended Media

Clean Dry Air

Clamp Limits Upper/Lower

92.5% to 7.5% VDD

Diagnostic Limits Upper/Lower

97.5% to 2.5% VDD

Pressure Ranges Available

5" H2O

10" H2O (2)


40" H2O

1 PSI (2)

5 PSI
[1] Use 5 VDC +/- 2.5% for 5" H2O
[2] Contact factory for additional custom pressure ranges.
| | |
| --- | --- |
| Part Number | Description |
| FMA-500-T1-05W-GV | 5 in H2O, Vacuum gage |
| FMA-500-T1-05W-GP | 5 in H2O, Positive gage |
| FMA-500-T1-10W-GV | 10 in H2O, Vacuum gage |
| FMA-500-T1-10W-GP | 10 in H2O, Positive gage |
| FMA-500-T1-40W-GV | 40 in H2O, Vacuum gage |
| FMA-500-T1-40W-GP | 40 in H2O, Postive gage |
| FMA-500-T1-001-GV | 1 PSI, Vacuum gave |
| FMA-500-T1-001-GP | 1 PSI, Positive gage |
| FMA-500-T1-005-GV | 5 PSI, Vacuum gage |
| FMA-500-T1-005-GP | 5 PSI, Positive gage |