Carbon Dioxide (CO2) Beverage Dispenser Monitoring and Alarming
---
Carbon Dioxide (CO2) gas occurs naturally in the earth's atmosphere in concentrations of ~300-400 parts per million (ppm). At this level, CO2 is harmless since the gas is neither toxic, nor explosive. CO2 gas can pose a health hazard, however, in confined or poorly ventilated areas because CO2 is heavier than air and displaces oxygen.
Many health and safety agencies have set long and short-term exposure limit regulations for CO2. In the United States, OSHA (Occupational Safety and Health Administration) has set an exposure limit of 5,000 ppm over an eight-hour period, and 30,000 ppm over a 10-minute period, while European Standards (EH40) set a short-term 15-minute exposure limit of 15,000 ppm.
CO2 gas concentration monitoring regulations are now commonly enforced for beverage dispensing applications in many jurisdictions, driven primarily by the International Fire Code (IFC Section 5307 Compressed Gases) and National Fire Protection Association (NFPA 55 Compressed Gases and Cryogenic Fluids). These standards define monitoring requirements for compressed gas distribution system installations exceeding 100 lbs. capacity. These applications, commonly found in restaurants, bars, brewhouses, stadiums and convenience stores, require continuous gas threshold detection combined with ventilation and valve control capabilities and audiovisual alarms.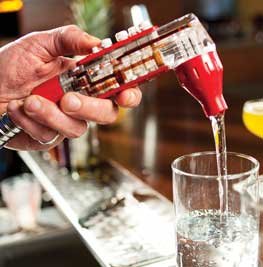 Telaire T3000 Series | CO2
Sensors for Harsh Environments

The Telaire T3000 Series of CO2 Sensors are designed for CO2 monitoring in harsh and demanding environments. Utilizing Telaire's nondispersive infrared (NDIR) sensor and electronic signal conditioning technology, the T3000 Series provides robust packaging in numerous configurations of measurement range, supply voltage and output signals.

Features:
High-accuracy Carbon Dioxide (CO2) transmitters for measurement and control applications in harsh environments
Nondispersive infrared (NDIR) sensing technology
Dual wavelength sensor design enables reliable high CO2

concentration readings via periodic automated calibration algorithms
Extended temperature operating range
Factory calibrations available up to 20% CO2

concentration
Analog or digital output options
Available IP67 ingress protection
Integrated diffusion filter and easy mounting with two external tabs.
Integrated connector enables re-calibration with available software
Custom designs available
AAS Advantage
Telaire products have been at the forefront of Carbon Dioxide (CO2) sensing technology for the last 28 years and are the originators of the maintenance free CO2 infrared sensor.
Telaire has over 35 technology patents including ABC Logic™ and warrants single wavelength sensor calibration for the life of the sensor.
Amphenol Advanced Sensors is a trusted OEM partner providing temperature, humidity, pressure, CO2 and dust sensors to solution providers in the HVAC, automotive, industrial and healthcare markets.