Temperature Scanning Kiosks
---
Temperature scanners and kiosks are used for initial screening of individuals before gaining access to a specified area, such as a place of work, store, school, or public transportation. In addition to obtaining temperature readings, this initial screening can also serve as a means of identifying individuals that will require a secondary screening prior to entering the area or using public transportation.
Applications
Non-contact thermometers, tympanic thermometers, and thermal scanners
Infrared (IR) temperature measurement for kiosks or walkthrough scanners
Handheld temperature measurement devices
International Standards
IEC 80601-2-59:2017 determines, safety and performance standards for human febrile temperature screening.
Per this standard, human screening is best accomplished by an elevated body temperature (versus an elevated skin temperature) via temperature detection at the tear ducts.
Amphenol Advantage
Manufacture of non-contact infrared (IR) temperature sensors for more than 30 years
Safely obtain temperature readings via contactless measurement
Multiple versions available to address accuracy, sensitivity, field of view (FOV) and package sizes
Temperature compensated
Multiple thermopile configurations - Thermopiles, thermopile modules, and array (multi-pixel) IR modules
Customization options for specificapplication requirements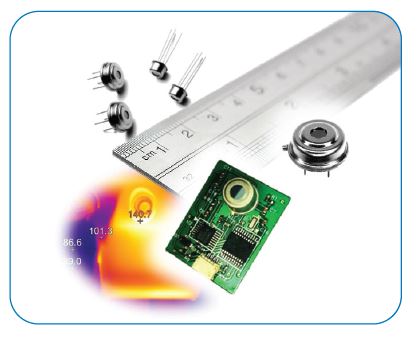 Model

Typical Application

Package Type

FOV

Sensitivity(1)

Output(2)

Non-contact handheld thermometers

TO-46

85°

1.31mV

Analog

ZTP-2210

Kiosks/scanners

TO-39

90°

3.20mV

Analog

ZTP-159L

Kiosks/scanners

TO-39

12°

0.12mV

Analog

ZTPD-2210

Kiosks/scanners

TO-39

TBD

-

Digital

Kiosks/scanners

Module

H:52 / V:14

-

Digital

(1) Sensitivity: Sensor output voltage at Tobj=40°C
(2) Output: Analog type IR sensors require calibration process by user
*Not all products have been released for production. Please contact your Sales Manager for more details.