NPR-40X | Product Spotlight
---
Pressure & Temperature Sensor Subassembly
The NovaSensor NPR-40X Series of Pressure & Temperature Sensors is designed to provide a cost effective solution for applications that require measurement of backside absolute pressure in aggressive media that cannot touch other electronics in the system. The series was designed to easily integrate with a metal housing using a crimping process, or it can be attached to a printed circuit board (PCB). NPR-40X is currently available in three different ceramic port options.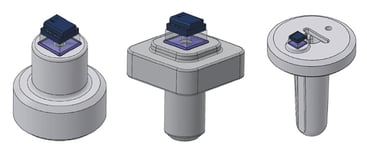 Based on NovaSensor's advanced SenStable® piezoresistive sensing technology, NPR-40X employs the backside absolute pressure technology of the NovaSensor PT1907, which is very popular in automotive and process control applications.

Because it comes into direct contact with the media, the sensor is more accurately calibrated, allowing the NPR-40X Series to provide superior pressure and temperature readings. Additionally, NPR-40X is available in pressure ranges from 0 psi to 60 psi (0 bar to 4.137 bar) through 0 psi to 300 psi (0 bar to 20.68 bar). Please contact NovaSensor for other pressure ranges.

Features:
Harsh media compatibility
Highly reliable, solid state silicon pressure sensor die subassembly pressurized from backside (cavity)
Variety of pressure ranges and types available
Temperature Range: -40°C to 150°C
On-chip temperature sensor
Easy integration into metal housing or PCBA attachment
Three ceramic button options available; customized ceramic options available upon request
Applications:
Pressure and Temperature Measurement in Aggressive Media
Engine Oil
Transmission Fluid
HVAC
Industrial Automation
Process Control Systems
Amphenol NovaSensor is a leading innovator in advanced sensing technologies and embedded measurement solutions customized for a wide range of applications to provide critical information for real time decisions. We offer industry-leading application expertise, rapid customization and world-class manufacturing capability to deliver the greatest value to our customers.