Telaire MiCS-VZ-89TE
---
Integrated VOC Sensor Module
The Telaire MiCS-VZ-89TE Integrated Sensor Module combines state-of-the-art MOS sensor technology with intelligent detection algorithms to monitor tVOCs and CO2 equivalent variations in confined spaces, e.g. meeting rooms or vehicle cabins.
The dual signal output can be used to control ventilation on-demand, saving energy and reducing cost-of-ownership.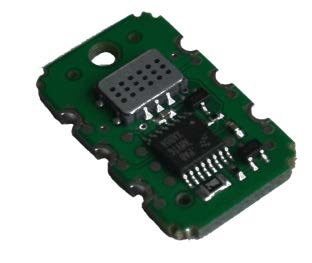 Calibration-free
Low power
Wide VOCs detection range
High sensitivity
High resistance to shocks and vibrations
Volatile Organic Compounds: VOCs
Equivalent Carbon Dioxide: CO2 (equivalent)
Performance:
Detection Method
Semiconductor gas sensor, detecting a wide range of VOCs
Monitoring Range
400-2000 ppm equivalent CO2
0-1000 ppb isobutylene equivalent tVOCs
PWM Output
Pin 1 : TTL output 30Hz +/-1%, Range 5...95%, duty cycle @ 3.3V
Use a pull-up resistance between Pin 1 and Pin 6
Pull-up value: typ. 10kOhms
I2C Output
Pin 2 and 4 ; Pull-up of 4.7 kOhms on master SDA and SCL
Response Time
Equivalent to conventional NDIR-CO2 sensors
< 5 seconds for tVOC
Refresh Output Frequency
1 Hz
Operation:
Supply Voltage
3.3V DC regulated +/- 5%
Operating Power
125 mW
Warm-up Time
15 min
Operating Temperature
0°C to 50°C
Operating Humidity
0%RH to 95%RH (non condensing)
Storage Temperature
-40°C to 80°C
Storage Humidity
0%RH to 95%RH (non condensing)

Important Precautions:

The sensor must not be exposed to high concentrations of organic solvents, ammonia, silicone vapor or cigarette smoke in order to avoid poisoning the sensitive layer.
The sensor should be protected against water and dust projections.
Telaire strongly recommends using ESD protection equipment to handle the sensor.