Telaire T6613
---
CO

2 Sensor Module
The Telaire T6613 is a small, compact CO2 Sensor Module designed to meet the volume, cost, and delivery expectations of Original Equipment Manufacturers (OEMs). The module is ideal for customers who are familiar with the design, integration, and handling of electronic components.
All units are factory calibrated to measure Carbon Dioxide (CO2) concentration levels up to 2000 and 5000 ppm. For higher concentrations, Telaire dual channel sensors are available.
Telaire offers high-volume manufacturing capabilities, a global sales force, and additional engineering resources to support your sensing application needs.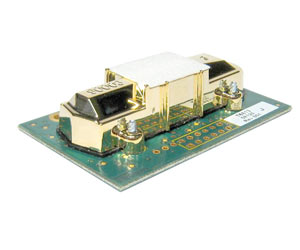 An affordable gas sensing solution for OEMs
Small, compact in size
Designed to integrate into existing controls and equipment
All units are factory-calibrated
A reliable sensor design based on 15 years of engineering and manufacturing expertise
Flexible CO2

sensor platform designed to interact with other microprocessor devices
Eliminates the need for calibration in most applications with Telaire's patented ABC Logic™ software
Lifetime calibration warranty
Compact design
High sensitivity
Fast response time
Low cost
Included ambient temperature (thermistor) sensor
Method
Non Dispersive Infrared (NDIR), gold-plated optics, diffusion or flow through sampling (with Telaire's patented ABC Logic Self Calibrated Algorithm)
Measurement Range
0 to 2000 ppm**
Dimensions

2.25 in X 1.365 in X 0.60 in
(57.15 mm X 34.67 mm X 15.24 mm)

Accuracy*

400-1250 ppm ± 30 ppm or 3% of reading, whichever is greater
1250-2000 ppm ± 5% of reading + 30ppm

Temperature Dependence
0.2% FS per °C
Stability
< 2% of FS over life of sensor (15 years typical)
Pressure Dependence
0.13% of reading per mm Hg
Calibration Interval
Not required
Response Time
< 2 minutes for 90% step change typical
Signal Update
Every 4 seconds
Warm Up Time

< 2 minutes (operational)
10 minutes (maximum accuracy)

Operating Conditions

32°F to 122°F (0°C to 50°C)
0 to 95% RH, non-condensing

Storage Conditions
-40°F to 158°F (-40°C to 70°C)
Output:
Digital

UART @ 19200 Baud
I2C slave up to 100kHz
Please call for detailed product specifications.

Analog
0 to 4 VDC
Power Supply Requirements
5 VDC regulated (±5%)
Power Consumption

0.90 watts peak
0.165 watts average

Interface Connections
Designed for 12 pin male header with 0.1 in (2.54 mm) spacing. Header not included.
Flow Rates (Via Flow Ports)
Flow through version 40 to 50 cc/min
Warranty Terms
12 months
* Tolerance based on span gas of ±2%.
** Subjecting sensors to environments less than 400 ppm for more than 15 minutes may affect accuracy due to ABC Logic algorithm.