Telaire T8000 Ventostat
---
Wall Mount CO2, Humidity & Temperature Transmitters
The Telaire Ventostat 8000 Series represents a full range of wall mount carbon dioxide, humidity and temperature transmitters with display options plus active humidity and temperature outputs. The Telaire 8000 Ventostat Series provides controlled ventilation with easy installation and a clean, modern look that suits most indoor environments.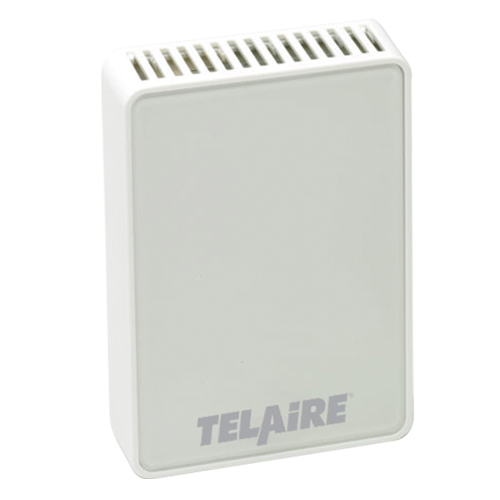 Controlled ventilation of indoor environments, such as a conference rooms, classrooms, meeting halls, etc.
Patented, Absorption Infrared Gas sensing engine provides high accuracy in a compact low cost package
Patented ABC Logic™ self-calibration system eliminates the need for manual calibration in most applications
Lifetime CO2 calibration guarantee when using ABC Logic™
Mounting plate with two-piece terminal blocks provide quick, easy wiring
Gas permeable, water resistant CO2 diffusion filter prevents particulate and water contamination of the sensor
Locking screw secures cover and sensor to the mounting bracket for tamper resistance
Dual simultaneous analog outputs (V & mA) available for CO2
Sensors are shipped factory calibrated
Temperature sensor on all models
Modern enclosure with customized branding available
CO2, humidity and temperature models
Two-piece design allows unit to be replaced without the need for rewiring
Accessory UIP software for making custom setting changes
Analog, BACnet versions available
T8100/T8300
T8200
Sensing Method
Non-dispersive infrared (NDIR) absorption
Gold-plated optics
Patented ABC Logic self calibration algorithm
CO2 Measurement Range
0 to 2000 ppm
0 ppm = 0 V, 4 mA
CO2 Accuracy
±30 ppm or 3% of reading (whichever is greater)*
Temperature Dependence
0.2% FS per °C (±0.11% per °F)
Stability
<2% of FS over life of sensor (15 years)
<5% of FS or <10% reading annual over life of sensor (10 years)
Pressure Dependence
0.135% of reading per mm Hg
Operating Conditions

32°F to 122°F (0°C to 50°C)

0 to 95% RH, non-condensing

Storage Conditions
-40°F to 158°F (-40°C to 70°C)
Thermistor Accuracy
±1°C (15°C to 35°C)
RH Sensing Element
Capacitive polymer sensor
RH Range
0% to 99% RH (non-condensing)
RH Accuracy (25°C)
±2.5% RH (20% to 80% RH)
±3.5% RH (<20% and >80% RH)
Active Temperature Accuracy
±0.8°C @ 22°C
Active Temperature Range
32°F to 122°F (0°C to 50°C)

*C02 accuracy statement excludes standard gas used for calibration that has an accuracy of 2%. In addition, there is a potential digital to analog error of up to 1%.
T8031

T8031-1M

T8031-1M-5V

T8031-3M

T8031-3M-5V

T8031-5V

T8041

T8041-5V

T8042

T8042-5V

T8100

T8100-5V

T8100-B

T8100-BAC

T8100-BAC-ASP

T8100-B-GN

T8100-D

T8100-D-ASP

T8100-DB

T8100-D-BAC

T8100-DB-GN

T8100-D-GN

T8100-D-GN-R

T8100-D-R

T8100-GN

T8100-GN-5V

T8100-H

T8100-H-BAC

T8100-HD

T8100-HDB

T8100-HD-BAC

T8100-HD-GN

T8100-H-GN

T8100-NS

T8100-NS-GN

T8100-NSP

T8100-NSP-GN

T8200

T8200-10P

T8200-50P

T8200-B

T8200-BAC

T8200-B-GN

T8200-D

T8200-D-10P

T8200-D-5P-R

T8200-DB

T8200-D-BAC

T8200-D-GN

T8200-D-GN-5P-R

T8200-GN

T8200-H-BAC

T8200-HD

T8200-HDB

T8200-HD-BAC

T8300-B

T8300-B-BAC

T8300-B-GN

T8300-B-GN-R

T8300-B-R

T8300-DB

T8300-DB-BAC

T8300-DB-GN

T8300-DB-GN-R

T8300-DB-R

T8400-B

T8400-DB-5P

T8700

T8700-D

T8700-D-GN

T8700-GN