Telaire T8100 NS Ventostat
---
Telaire Ventostat T8100-NS Series of Wall-Mount CO2 Sensors provide patented, absorption infrared gas sensing with high accuracy in a compact, low cost package.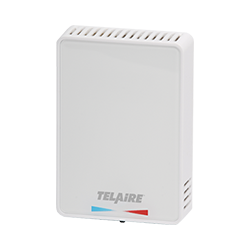 Patented, Absorption Infrared Gas sensing engine provides high accuracy in a compact low cost package.
Local temperature adjustments with slide pot and night set override control.
Patented ABC Logic™ self-calibration system eliminates the need for manual calibration in most applications.
Lifetime

CO

2 calibration guarantee when using ABC Logic™.
Mounting plate with two-piece terminal blocks provide quick, easy wiring.
Gas permeable, water resistant

CO

2 diffusion filter prevents particulate and water contamination of the sensor.
Locking screw secures cover and sensor to the mounting bracket for tamper resistance.
Dual simultaneous analog outputs (V & mA) available.
Sensors are shipped factory calibrated.
Temperature sensor on all models.
Modern enclosure with customized branding available.
T8100/T8300 Single Channel
T8200 Dual Channel
Sensing Method
Non-dispersive infrared (NDIR) absorption
Gold-plated optics
Patented ABC Logic self calibration algorithm
CO2 Measurement Range
0 to 2000 ppm
0 ppm = 0 V, 4 mA
CO2 Accuracy
400-1250 ppm ±30 ppm or 3% of reading (whichever is greater)
1250-2000 ppm ±5% of reading + 30ppm
75 ppm or 10% of reading (whichever is greater)
Stability
<2% of FS over life of sensor (15 years)
<5% of FS or <10% reading annual over life of sensor (10 years)
Pressure Dependence
0.135% of reading per mm Hg
Operating Conditions
0°C to 50°C
0 to 95% RH, non-condensing
Storage Conditions
-40°C to 70°C