Telaire T3022 Series
---
IP65 CO2 Sensors for OEM Installation
Designed to meet the needs of OEM manufacturers for low cost Carbon Dioxide (CO2) sensor installations, the Telaire T3022 Series provides reliable and convenient CO2 measurement in an IP65-rated enclosure. Compatible with other sensors in the Amphenol Advanced Sensors product portfolio, the T3022 easily integrates into environmental monitoring and control systems via I2C serial communication protocols.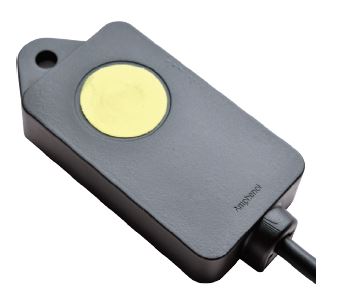 Air-air heat exchanger volume control
Residential demand-based ventilation
Self-contained ventilation system control
HVAC control applications
An affordable gas sensing solution for OEMs
A reliable sensor design based on 25 years of engineering and manufacturing expertise
Flexible CO2

sensor platform designed to interact with other microprocessor devices
Eliminates the need for calibration in most applications with Telaire's patented ABC Logic™ software. Lifetime calibration warranty
Easy mounting with external tab
Different calibrations available, subject to commercial consideration
Extended operating temperature range
Digital output
Non-Dispersive Infrared (NDIR) measuring technology
Sensors shipped factory-calibrated
IP65 ingress protection ensures reliable operation in harsh environments
Sensing Method
Non Dispersive Infrared (NDIR), gold plated optics, diffusion or flow through sampling (with Telaire's Patented ABC Logic Self Calibrated Algorithm)
Measurement Range
0 to 5000 ppm**
Dimensions
Overall 60 mm X 35 mm X 15 mm approx
Accuracy
400-5000 ppm ± 75 ppm or 10% of reading, whichever is greater*
Temperature Dependence
0.2% FS per °C
Stability
< 2% of FS over life of sensor (15 years typical)
Pressure Dependence
0.13% of reading per mm Hg
Calibration Interval
Not required
Response Time
7 minutes (approx)
Signal Update
Every 4 seconds
Warm Up Time

< 2 minutes (operational)
10 minutes (maximum accuracy)

Operating Conditions

32°F to 122°F (0°C to 50°C)
0 to 95% RH, non-condensing

Storage Conditions
-40°F to 158°F (-40°C to 70°C)
Output
I2C Digital, see T6700 Series Application Guide for detail
Protection
IP65
Power Supply Requirements

4.5-5.5 VDC
Peak 200mA (155mA typical)
Average 25mA (20mA typical)

Warranty Terms
12 months
Compliance

REACH, ROSH and Prop65 compliance
Flammability rating of enclosure UL94 5VA

* Tolerance based on span gas of ±2%
** Subjecting sensors to environments less than 400ppm for more than 15 minutes may affectaccuracy due to ABC Logic™ algorithm.
T3022-1-5k-5-1
T3022-1-5K-5
T3022-1-5K-1-MX