Telaire ChipCap 2-SIP
---
Humidity and Temperature Sensor
Telaire ChipCap 2-SIP is a Single In-line Package (SIP) type of ChipCap with ready installed V-core capacitor for easy and convenient application. ChipCap offers the most advanced and cost effective humidity and temperature sensing solution for virtually any type of applications. Capacitive polymer sensor chip developed and fabricated inhouse and CMOS integrated circuit with EEPROM are integrated into one embedded system. Individually calibrated and tested, ChipCap 2-SIP performs ±2% from 20% to 80%RH (±3% over entire humidity range), and yet is simple and ready to use without further calibration or temperature compensation.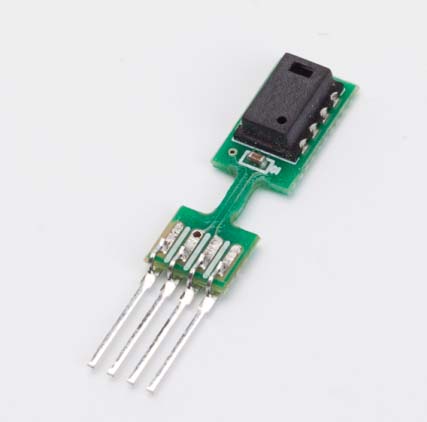 Energy Saving HVAC Control: Air Conditioning, Refrigeration, IAQ Monitoring, Vent Fans, Home Appliances, Humi/Dehumidifiers
Process Control and Instrumentation: Sensor Performance
Medical Instruments, Handheld Devices, Weather Stations, Food Processing, Printers, RFIDs
Automobile & Transportation Cabin Climate Control, Defogging Control, Condensing Preventive Devise
Mass Quantity Application: OEM custom specification available.
Fully-calibrated and temperature-compensated
Digital (I2C) output
Precision and accuracy (±2%RH, ±0.3°C, 14 bit )
Free operating voltage (min 2.3V to max 5.5V)
Low current compensation
SIP (Single In-line Package)
Reliable in harsh environments
Eliminates the reconditioning procedure needed for surface mount RH sensors
Field replaceable
Allows better air circulation and response time
Sensor Performance:
Relative Humidity RH(%)
Resolution
14 bit (0.01 %RH)
Accuracy1
±2.0 %RH (20~80 %RH)*

Repeatability
±0.2 %RH
Hysteresis
±1.0 %RH
Linearity
<2.0 %RH
Response time3
4.0 sec (63%)
Temp Coefficient
0.05%RH/C @ 50%RH (at 10-60°C)
0.15%RH/C @ 90%RH (at 10-60°C)
Operating Range
0 ~ 100 %RH (Non-Condensing)
Long Term Drift
<0.5 %RH/yr (normal condition)
Sensor Performance:
Temperature (°C)
Resolution
14 bit (0.01°C)
Accuracy1
±0.3°C
Repeatability
±0.1°C
Response time2
5.0 sec (63%)
Operating Range
-40 to 125°C
Long Term Drift
<0.5°C/yr (normal condition)

Accuracies measured at 25°C, 5.0V
Measured at 25°C, 1m/sec airflow for achieving 63% of step from 33%RH to 90%RH
Accuracies measured at 25°C, 5.0V
Min 5.0 sec, Max 20 sec
CC2D23-SIP
CC2D25-SIP
CC2D23S-SIP
CC2D25S-SIP
CC2D33-SIP
CC2D35-SIP
CC2D33S-SIP
CC2D35S-SIP