Thermometrics Sensor Assemblies
---
Clip-On Pipe and Surface Sensor - Type JW/JC
Thermometrics Type JW/JC of Waterproof Clip-On Pipe and Surface Sensors are NTC or PTC type chip thermistors on a ceramic/metal shoe assembly sealed in a polymer housing and provided with flexible twin cable connections. The housing is fitted with a spring metal clip for pipe attachment. Suitable for use in conditions of high condensation and occasional immersion in water. Typical applications include gas boiler control, domestic water systems, air conditioners, radiator inlet-outlet, electric showers and vending machines.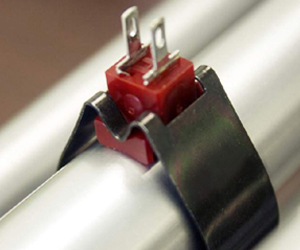 Gas boiler control
Domestic water systems
Air conditioners
Radiator inlet-oulet
Electric showers
Vending machines
Suitable for use in conditions of high condensation and occasional immersion in water
Low temperature gradient (<1.8°F at 140°F (<1°C at 60°C))
Sensing element electrically isolated from shoe (isolation >20M Ω at 500V)
Range of clips for pipe diameters
0.51 in to 1.18 in (13 mm to 30 mm)
Self-adjusts to irregular pipes
Offers cost benefits over traditional immersion probes
Fast response times - 1.5s typical for JC and 3.0s typical for JW
Type JW (water resistant version) meets IP46 standard (with connector tabs encapsulated)
Type JC meets IP44 standard
Minimum operating temperature
32°F (0°C)
Maximum temperature
212°F (100°C) (sensor)
185°F (85°C) (housing)
Dissipation factor
≥2mW/K (mounted on copper pipe at 77°F (25°C))
Isolation voltage
500 VDC
Clip force
<50N for mounting / de-mounting on pipe 5N will not cause rotation on pipe
Shoe material
Plated brass
Body material
Nylon
Pack quantity & MOQ
200 pcs
Options
Other resistance-temperature characteristics
Other wire lengths
Special pipe sizes
| | |
| --- | --- |
| Sensor Type | Response Time (seconds) |
| NTC | ≤4 (to 90% voltage change) |
| PTC | ≤4 to TNF 41°F (5°C) (sensor applied to pipe at TNF 73.4°F (23°C)) |
JC type part number variations are described in the datasheet.