Thermometrics Sensor Assemblies
---
Cylinder Head Temperature Sensor
Thermometrics Cylinder Head Temperature Sensor is designed to take the place of one of the cylinder head bolts on a diesel engine. The sensor's purpose is to measure the cylinder head temperature and to signal the vehicle's operator if an engine overheats (that is, if an engine over-temperature is taking place). The engine will be in danger of permanent damage if it continues to run at an elevated temperature.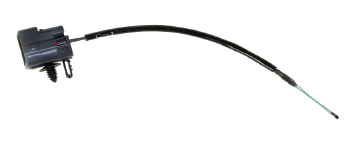 Engine Cylinder Head Temperature
Oil Temperature Sensor
High accuracy and long term stability @ 185°C
Fast response time
Cable designed to maintain flexibility in high vibration applications such as small diesel engines
Pigtail leaded design
Field proven design
Alternate RvT curves available
Different geometries to meet package requirements
Other resistance and beta values available
Insulation Resistance: > 100Mohm @ 500 VDC
Withstand Voltage: 1500 VAC for 1 second
R @ 100°C
2,0400 ohms ±5%
B (25/85)
3977K
Operating Temperature Range
-40°C to 185°C
Storage Temperature Range
-40°C to 185°C
Temperature Accuracy
± 1.77% @ 25°C
± 2.0% @ 100°C
Response Time
7 seconds liquid to liquid
Resistance vs. Temperature Data
See datasheet.