Thermometrics Sensor Assemblies
---
Exhaust Gas High Temperature Sensor
Thermometrics Exhaust Gas High Temperature Sensor operates over a temperature range from -40°C to 850°C. It monitors the temperature before and after SCR system in vehicle engines as part of the engine control strategy. It is designed for fast response, optimized for thermal dissipation and suitable for high vibration and corrosive environments.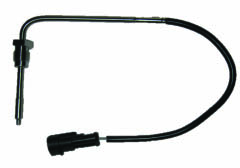 Gasoline or diesel engines
Exhaust gas
SCR
Aerospace
1000°C PT200 RTD element
Survives excursions to 1000°C
Highly resistant to corrosive exhaust gases
Long-term stability
Extended life from moisture-proof design
Design optimized for heat transfer
High 3 % accuracy
Flexible Pigtail Connector
Customizable hex dimensions and thread type
Alternate 1% accuracy RTD element available
Operating Temperature Range

-40°C to 850°C
Survives short (under 1 hour) excursions to 1000°C

Storage Temperature
-40°C to 125°C
Temperature Accuracy

±4.5°C from 40°C ~ 300°C
±1.5°C from 300°C ~ 850°C

Response Time
3.5s (400°C salt bath)
Resistance vs. Temperature Data
See datasheet.