Thermometrics Current Limiters
---
A-2130 NTC Inrush Current Limiter Kit
Thermometrics A-2130 Inrush Current Limiter Kit consists of 32 our most popular styles of Inrush Current Limiters (straight and kinked leads) at a quantity of 5 pieces per style. This kit allows customers, in their initial design stage, to test multiple spec variances to determine which part(s) are best suited for their needs. This added efficiency enables the customer to reduce lead times and delivery of multiple parts. It also provides a better customer experience overall.
Kit Includes:
Table of Contents, including specs along with features and applications
32 different inrush current limiters (straight and kinked leads); 5 pcs each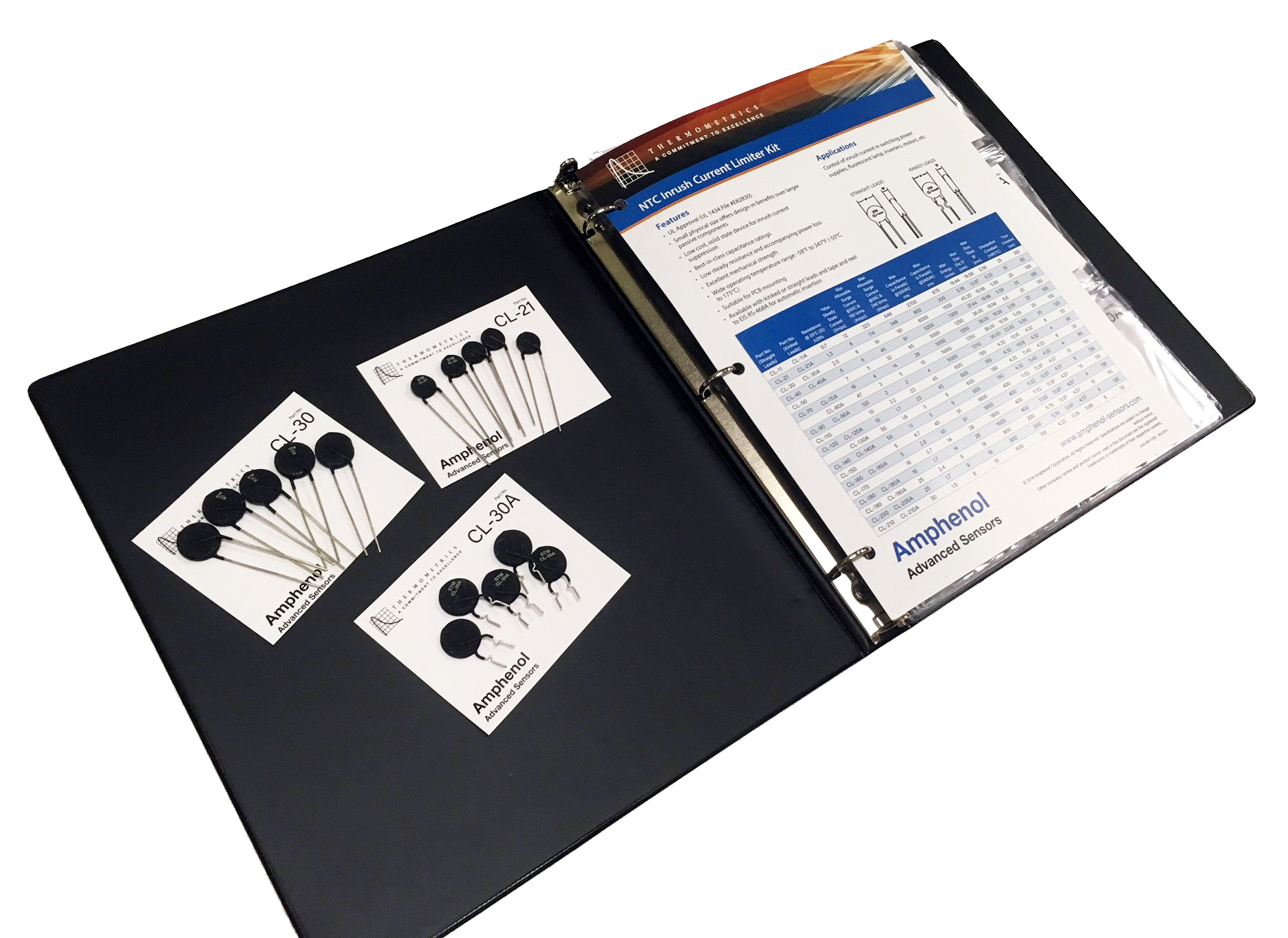 Control of inrush current in switching power supplies, fluorescent lamp, inverters, motors, etc.
UL Approval (UL 1434 File #E82830)
Small physical size offers design-in benefits over larger passive components
Low cost, solid state device for inrush current suppression
Best-in-class capacitance ratings
Low steady resistance and accompanying power loss
Excellent mechanical strength
Wide operating temperature range: -58°F to 347°F (-50°C to 175°C)
Suitable for PCB mounting
Available with kinked or straight leads and tape and reel to EIS RS-468A for automatic insertion
Part No.
(Straight Leads)
Part No.
(Kinked Leads)
Resistance @ 25°C (Ω) ±25%
*Max Steady State Current (Amps)
Max Capacitance (u Farads)
@120VAC rms
Max Capacitance (u Farads)
@240VAC rms
Max Energy
(Joules)
CL-11
CL-11A
0.7
12
2700
675
19.44
CL-21
CL-21A
1.3
8
800
200
5.76
CL-30
CL-30A
2.5
8
6000
1500
43.20
CL-40
CL-40A
5
6
5200
1300
37.44
CL-50
7
5
5000
1250
36.00
CL-70
CL-70A
16
4
5000
1250
36.00
CL-80A
47
3
5000
1250
36.00
CL-90
CL-90A
120
2
5000
1250
36.00
CL-110
10
3.2
600
150
4.32
CL-120
CL-120A
10
1.7
600
150
4.32
CL-130A
50
1.6
600
150
4.32
CL-140
CL-140A
50
1.1
600
150
4.32
CL-150
5
4.7
1600
400
11.52
CL-160
CL-160A
5
2.8
1600
400
11.52
CL-170
16
2.7
1600
400
11.52
CL-180
CL-180A
16
1.7
1600
400
11.52
CL-190
CL-190A
25
2.4
800
200
5.76
CL-200
CL-200A
25
1.7
800
200
5.76
CL-210
CL-210A
30
1.5
600
150
4.32
CL-11
CL-11A
CL-21
CL-21A
CL-30
CL-30A
CL-40
CL-40A
CL-50
CL-70
CL-70A
CL-80A
CL-90
CL-90A
CL-110
CL-120
CL-120A
CL-130A
CL-140
CL-140A
CL-150
CL-160
CL-160A
CL-170
CL-180
CL-180A
CL-190
CL-190A
CL-200
CL-200A
CL-210
CL-210A