Thermometrics NTC Thermistors
---
Glass Type JM - Resin-Coated
Thermometrics Type JM of Resin-Coated Glass-Encapsulated Thermistors are glass-encapsulated NTC thermistors housed in a resin tip, which is bonded to 'figure 8' PVC leadout wires. They are resistant to moisture ingress, which makes them suitable for use in air conditioning evaporators to prevent inefficiency due to icing.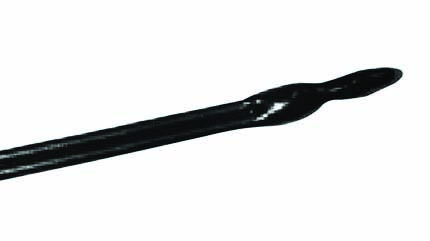 Air conditioning evaporators
Resistant to moisture ingress
Withstands immersion in water at 176°F (80°C) for >1200 hours while powered with 7.5 VDC using a 10 kΩ resistor without deterioration
Available using any device in the Thermometrics standard DK range
Range of wire length is 9.84 in to 196.84 in (250 mm to 5000 mm)
Temperature Range:
-22°F to 221°F (-30°C to 105°C)
Insulation Resistance:
>100 MΩ @ 500 VDC
Wire Conductors:
7 x 0.3 mm diameter (0.5 mm2)
Wire Insulation:
Automotive grade PVC
Resistance-Temperature Characteristics:
Refer to DK datasheet.
Options:
Other resistance-temperature characteristics
Other wire types
Part numbers are described in the datasheet.