Thermometrics NTC Thermistors
---
Glass TG Series - Glass-Sealed Radial
Thermometrics TG Series of NTC Thermistors are glass-sealed radial type thermistors with a water and oilproof design, featuring high temperature resistance and accuracy. For use in a wide variety of applications, including automotive, heating/cooling devices, boiler systems and appliances.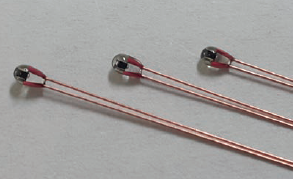 Automotive (Water, Oil and Air Temperature Sensing)
Heating / Cooling Devices
Boiler Systems
Appliances
High temperature resistance up to +300°C (572°F)
Chip type element
Fast response time
Water and oilproof design
Tin and Nickel-Plated options available
Standard Specifications:
Thermal Time Constant
5 Sec. approx (in still air)
Dissipation Constant
0.75 mW/C approx (in still air)
Operating Temperature
-40°C +300°C
Part numbers are described in the datasheet.