Thermometrics NTC Thermistors
---
EPOXY Type NKA | FOR automotive applications
Thermometrics Type NKA NTC Chip Thermistors are optimized for automotive applications and high volume assembly with Sn-coated Alloy 52 leads and alternative epoxy, HTF1 silicone, and CR1 FKM coatings.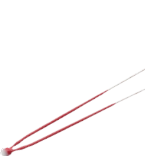 Automotive - EV, EGR, TMAP, OAT, HVAC
White Goods
Tested to AEC Q200
Designed for accurate temperature measurement, control and compensation
Tight tolerances on resistance and B value
Operation up to 170°C with excellent stability
Small body diameter
Fast response
Coating option up to 29mm
High thermal shock resistance
Automotive/Aerospace fluids resistance
Water immersion (CR1)
Flexible – HTF1/CR1 coated leads can be formed
Insulation Resistance: 500Vd.c. (1kV - CR1)
Available on bandolier to IEC 286-2
Compliance: RoHS 2011/65/EU, REACH
Minimum Operating Temperature
-40°C
Maximum Operating Temperature
Epoxy: 155°C, HTF1: 170°C, CR1: 190°C
Thermal Time Constant
10 - 15s (cooling)
2.4s (ambient change)
Dissipation Factor
2.2mW/K
Mass
0.18g
Packing/MOQ
1000/box (loose)
2000 min/reel
Options
Other resistance values within the ranges shown
Alternative reference temperatures: 0°C to 100°C
Bulk packed or bandoliered up to H=45mm
Lead materials: Steel/Alloy52/Cu
Coatings: Epoxy (standard), HTF1, CR1 (Materials 1, 4A only)
Color-coded tip
Contact Amphenol for specific application requirements.
Standard Range Resistance Values
(Other values available upon request)
R25Ω
Material System
B 25/85°C K
Max Operating Temp1 °C (°F)
Part Code
R25°C ±1%
Part Code
R25°C ±2%
Part Code
R25°C ±3%
Part Code
R25°C ±5%
Part Code
R25°C ±10%

500

2

3540 ± 1%

155 (311)

NKA501C2*1

NKA501C2*2

NKA501C2*3

NKA501C2*5

NKA501C*R10

500

2A

3627 ± 1%

155 (311)

NKA501C2A*1

NKA501C2A*2

NKA501C2A*3

NKA501C2A*5

NKA501C2A*10

500

7

3977± 1%

155 (311)

NKA501C7*1

NKA501C7*2

NKA501C7*3

NKA501C7*5

NKA501C7*10

1000

2

3540 ± 1%

155 (311)

NKA102C2*1

NKA102C2*2

NKA102C2*3

NKA102C2*5

NKA102C2*10

1000

2A

3627 ± 1%

155 (311)

NKA102C2A*1

NKA102C2A*2

NKA102C2A*3

NKA102C2A*5

NKA102C2A*10

1000

7

3977± 1%

155 (311)

NKA102C7*1

NKA102C7*2

NKA102C7*3

NKA102C7*5

NKA102C7*10

2000

2

3540 ± 1%

155 (311)

NKA202C2*1

NKA202C2*2

NKA202C2*3

NKA202C2*5

NKA202C2*10

2000

2A

3627 ± 1%

155 (311)

NKA202C2A*1

NKA202C2A*2

NKA202C2A*3

NKA202C2A*5

NKA202C2A*10

2000

7

3977± 1%

155 (311)

NKA202C7*1

NKA202C7*2

NKA202C7*3

NKA202C7*4

NKA202C7*10

2700

1

3977 ± 0.75%

155 (311)

NKA272C1*1

NKA272C1*2

NKA272C1*3

NKA272C1*5

NKA272C1*10

5000

4A

3436 ± 1%

155 (311)

NKA502C4A*1

NKA502C4A*2

NKA502C4A*3

NKA502C4A*5

NKA502C4A*10

5000

1

3977 ± 0.75%

155 (311)

NKA502C1*1

NKA502C1*2

NKA502C1*3

NKA502C1*5

NKA502C1*10

10000

4A

3436 ± 1%

155 (311)

NKA103C4A*1

NKA103C4A*2

NKA103C4A*3

NKA103C4A*5

NKA103C4A*10

10000

5

3740 ± 1%

155 (311)

NKA103C5*1

NKA103C5*2

NKA103C5*3

NKA103C5*5

NKA103C5*10

10000

1

3977 ± 0.75%

155 (311)

NKA103C1*1

NKA103C1*2

NKA103C1*3

NKA103C1*5

NKA103C1*10

12000

5

3740 ± 1%

155 (311)

NKA123C5*1

NKA123C5*2

NKA123C5*3

NKA123C5*5

NKA123C5*10

30000

8

3977± 1%

155 (311)

NKA303C8*1

NKA303C8*2

NKA303C8*3

NKA303C8*5

NKA303C8*10

50000

8

3977± 1%

155 (311)

NKA503C8*1

NKA503C8*2

NKA503C8*3

NKA503C8*5

NKA503C8*10

1. Epoxy 155°C, HTF1 170°C, CR1 170°C (Material 1 190°C)
Replace * in the table codes shown above as follows:
Loose-packed
R
Bandoliered
B
Coating Suffix:
Epoxy
No suffix
CR1 (Ceramic Material 1, 4A Only)
C
HTF1
H
Example Part Code:
NKA103C1R3C
(loose pack, ±3% tolerance, CR1 coating)