Flow-Through Temperature Sensor
The flow-through temperature sensor monitors the temperature of a fluid that passes through it. A system control module receives this temperature reading and uses a control loop to control the overall system temperature. This automotive sensor can be used to monitor engine temperature, heater temperature, or industrial supply temperature.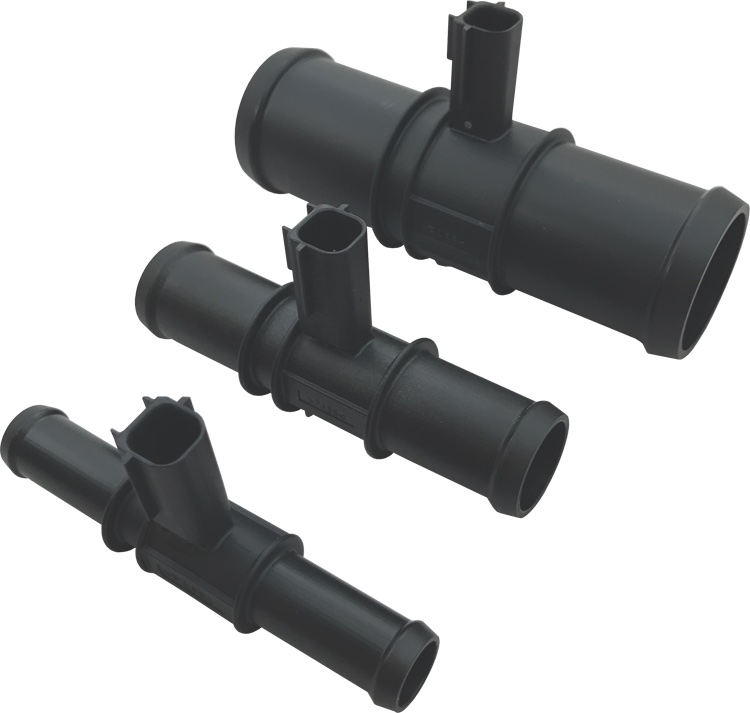 Features
Available in 4 tube configurations
USCAR sealed connection system
Polyamide 6/6 housing material
R@25°C 🡪 10kΩ±1.5%
Response time < 15 seconds (flowing water)
New version mates with polyamide tube of 14mm id
Alternate RvT curves available upon request
Operating temperature range: -40°C to 120°C


Applications
EV/HEV – battery pack coolant
Industrial process flow measurement
Engine coolant temperature
Home Appliances
HVAC water management
Ordering information
| | |
| --- | --- |
| Part Number | Hose Size |
| GE-2102 | 0.50 in. (12.70 mm) |
| GE-1935 | 0.75 in. (19.05 mm) |
| GE-2103 | 1.25 in. (31.75 mm) |
| CTTS-302651-F01 | 0.55 in. (14.00mm) |
Amphenol electric vehicle sensors can be custom designed to meet the exact specifications and demands of application.
Speak with one of our engineers today about your sensor technology needs.
Take This Page With You
Download a PDF of this product's information. Fill out the form below: