Infusion Pump Pressure Sensors
---
Infusion pumps are used to deliver critical fluids, such as medication and nutrients, to a patient's body. Pressure sensors are often used to monitor backpressure to ensure that the pump is functioning properly to sustain a controlled flow or dosage of fluids to the patient, as well as to detect occlusion in the line.
Applications:
Ambulatory Infusion Pumps
Insulin Pumps
Enteral Feeding Pumps
Other Medical Pumps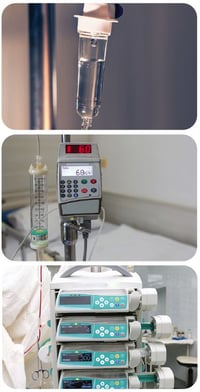 Pressure Sensor Solutions
NPP-301
NPC-100 / NPC-120
NPI-12

Pressure Ranges: 100, 200, 700 kPA
Accuracy and reliability in a small package
Wide operating temperature range (-40°C to 125°C)
Low cost

Solid state, high reliability
Media compatibility
Disposable
Small size
Low cost

Solid state, high reliability
Low cost media Isolation
Standard TO-8 package
Pressure Range: 2psi to 5,000psi
Absolute, gauge or differential
Amphenol Advanced Sensors is a leading innovator in advanced sensing technologies and embedded measurement solutions customized for a wide range of applications to provide critical information for real time decisions. We offer industry-leading application expertise, rapid customization and world-class manufacturing capability to deliver the greatest value to our customers.
Related Links: