NPC-300 | Disposable Medical Pressure Sensor
---
The NovaSensor NPC-300 is a Disposable Medical Pressure Sensor specifically designed for use in disposable medical applications. The device is calibrated and thermally compensated with a digital I2C output incorporating a signal conditioning integrated circuit. Wetted materials have been tested in accordance to ISO 10993 and USP Class VI Specifications for protracted duration of contact up to 30 days.
NPC-300 is fabricated in a Class 1000 Clean Room to minimize possible sources of contamination. Programmable signal conditioning is utilized for final compensation and calibration. Total Error Band (TEB) is maintained at ±5.5% within the defined compensation range.
The method of assembly draws from well-established manufacturing techniques used in the electronics industry to produce a quality product in a miniature package (5.6mm x 3.4mm x 2.3mm) and is available in tape and reel packaging for automated assembly.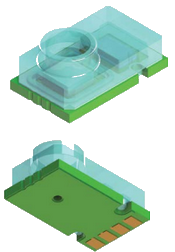 Features
Solid state, high reliability

Media compatibility

High performance

Biocompatible gel

Miniature package (5.6mm x 3.4mm x 2.3mm)

Temperature compensated

Low cost, disposable design

I2C digital output
Applications
Medical instrumentation

Blood pressure measurement

Infusion pumps

Kidney dialysis machines
Preliminary NPC-300 Specifications

General Parameters

Min

Typ

Max

Unit

Notes

Operating Pressure

-30

300

mmHg

-0.58 pgiG to 5.8 psiG

Over Pressure

70

psiG

Operating Temperature

15

40

°C

Compensation Temperature

Electrical

Supply Voltage

1.8

3.6

VDC

Current Consumption

0.9

1.5

mA

Pressure Output Resolution

16

bit

Pressure Accuracy

-5.5

5.5

%FSO

15°C to 40°C

Mechanical

Dimensions (L x W x H)

5.6mm x 3.4mm x 2.3mm

Weight

~0.2g

Media Interface

Medical grade, dielectric gel

Gel Tube Interface

Polycarbonate
Amphenol NovaSensor is a leading innovator in advanced sensing technologies and embedded measurement solutions customized for a wide range of applications to provide critical information for real time decisions. We offer industry-leading application expertise, rapid customization and world-class manufacturing capability to deliver the greatest value to our customers.