Temperature Sensors for Cold Chain and Continuous Data Logging & Monitoring | Application SPotlight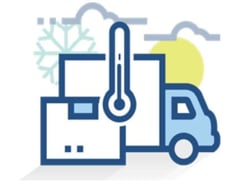 Food and pharmaceutical products are required to be kept under controlled temperature (often around 0°C) to ensure their safety and quality. A successful cold chain ensures temperature-sensitive products are kept within optimal temperature ranges and maintain the desired states from start to finish. Failure to keep these products cold will render them unusable, which leads to product waste and financial loss. Suppliers of cold chain products are required to keep continuous track of temperature and other parameters that can compromise the integrity of their products.
How do we help?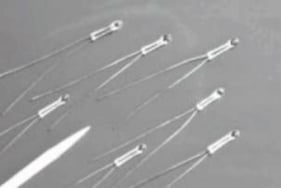 Amphenol Advanced Sensors carries an extensive line of thermistors, RTD components and finished probe assemblies that meet the broad temperature range requirements for today's cold chain market. Amphenol Advanced Sensors also offers the ability to meet the customer's custom package solution requirements, in addition to assemblies that are suitable to withstand harsh surroundings. These thermistors and RTDs can be used in all temperature measurement and control applications with the added assurance of long-term stability and reliability. Our RTDs (temperature range -196°C to 600°C) and NTC Type P (temperature range -80°C to 300°C) are designed for rapid response while maintaining superior accuracy even at extreme low temperatures. We can incorporate these NTC thermistors and RTDs into customer specific designs, providing a robust construction and ensuring long life in harsh clinical environments.
Custom Packaging - Makes us the right choice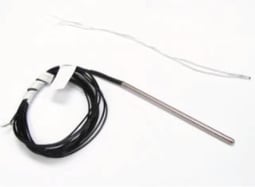 What sets Amphenol Advanced Sensors apart is our ability to offer custom packaged assemblies. For cold chain applications, finding a solution that meets the required temperature range with a packaging assembly that also fits your needs can be an arduous task, but Amphenol Advanced Sensors prides itself in our ability to customize a unique packaging assembly for each customer. Our attention to thermodynamic properties in the assembly design is critical for matching a customer's measurement protocol. Whether providing NTC thermistors, RTDs, sub-assemblies, or fully-completed devices, our team is ready to partner with you.
Application Examples:
COVID-19 Vaccine Refrigerated Container Data Logger Temperature Probes
The container serves as an incubator or refrigerator, maintaining the required temperature of its vital contents.
Temperature probes provide a precise temperature profile to the data logger, verifying a successful transportation of vaccines.
Food Storage and Warehousing Temperature Probes
Food products require storage at fixed control temperatures to ensure integrity and safety.
Temperature probes ensure this critical parameter is maintained at defined specifications and regulatory guidelines, whether in an individual refrigeration unit or by temperature mapping an entire warehouse.
Product Offerings for Vaccine Cold Chain:
RTD Series
Product Prefix: PT
Resistance Range: 100 / 500 / 1000Ω at 0°C
Tolerance: Class A, Class B, Class 1/3 DIN B
Temperature Range: -196°C to 600°C
Platinum-coated nickel wire
Benefits:
Meets the technology requirement for current cold chain dataloggers
Custom packaging options to withstand the harsh environment
Linear Resistance Vs Temp Output allows easier conversion to a digital output


Additional Cold Chain Application Solutions:
Type P Glass Probe Series
Product Prefix: P60, P65, P85, P100
OD: 0.060" maximum (P60)
Resistance Range: 51Ω to 10MΩ
Temperature Range: -80°C to 300°C (Intermittent from -196°C to 600°C permissible)
Ultrastable Option: Type SP (Stability Class A1: 0.02% / year at 105°C max)
Fast Response Option: Type FP (Response Time: 0.007sec max, water plunge)
Benefits:
Excellent long-term stability
Very fast response time
Small form factor


Type BR Glass Bead Series
Product Prefix: BR
OD: 0.012" maximum (BR11)
Temperature Range: -80°C to 300°C (Intermittent from -196°C to 600°C permissible)
Compatible with Type AB style assembly
Benefits:
Miniature size
Hermetically sealed
Very fast response time
Medical Disclaimer: "You are hereby advised that Amphenol Advanced Sensors has not performed any biocompatibility or clinical testing of these products. The responsibility to ensure that all products comply with all applicable federal, state, and local laws lies with the OEM manufacturer or user."