Cardiac Output Monitoring | Catheterization
Cardiac output catheterization is a procedure used to diagnose and treat cardiovascular conditions. Narrowing of arteries may decrease blood flow to the heart, leading to pain, breathing issues, and even a heart attack. Cardiac output monitoring locates problems in blood vessels and assesses the overall pumping function of the heart, allowing for the prevention and correction of issues. Amphenol Advanced Sensors' part in this important application is providing highly accurate and robust assemblies using NTC thermistor technology for temperature measurement.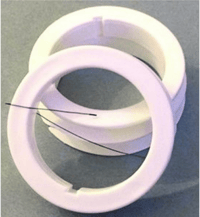 Cardiac OutPut Monitoring: How do we help?
Amphenol Advanced Sensors carries an extensive line of AB and MA style NTC thermistor sub-assemblies for cardiac output monitoring. The NTC thermistors are housed in small, controlled diameter tips, providing a small profile for tight spaces and excellent point isolation of measurement. Various diameter and lead length offerings allow customers to incorporate our sub-assemblies into many different lumen sizes. The thermistor provides fast and accurate temperature information of the blood, which is used in the calculation for determining flow and providing a diagnosis.
What makes us better?
In addition to our catalog offerings, Amphenol Advanced Sensors prides itself in our ability to customize a unique solution for each customer. Whether superior resistance stability, a small diameter, fast response, or all the above are critical for your design, our team is ready to partner with you.

PRoduct information Ordering
Amphenol medical sensors can be custom designed to meet the exact specifications and demands of application. Speak with one of our engineers today about your sensor technology needs:
Take This Page With You
Download a PDF of this page's information. Fill out the form below: