Products
---
With a portfolio of industry-leading brands - Thermometrics, NovaSensor, Telaire, Protimeter and Kaye - Amphenol Advanced Sensors is an innovator in advanced sensing technologies and innovative embedded measurement solutions customized for regulatory and industry-driven applications, creating
value by providing critical information for real-time decisions.

Our sensing products measure temperature, pressure, liquid level, moisture and humidity, gas concentration, and flow rate for a wide range of applications across the transportation, industrial and healthcare markets.

We offer domain expertise, rapid customization, world-class manufacturing capabilities and lasting customer relationships to deliver the greatest value in cost of ownership to our customers.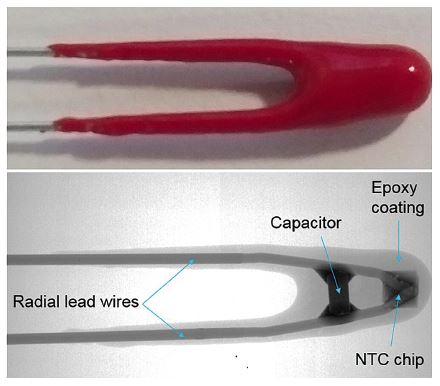 Thermometrics NTC Thermistors | Epoxy Type NKI Noise Immune
Thermometrics Epoxy-Coated Type NKI of Noise Immune Thermistors are newly developed, consisting of a noise immune NTC thermistor with an integrated radio frequency (RF) decoupling function, providing protection from electromagnetic interference (EMI) at the component level over a wide frequency range.
Read More