Product Spotlight | uel Particulate Sensors - GPF/DPF
---
The NovaSensor Fuel Particulate Sensor uses a highly reliable NovaSensor MEMS pressure die to meet the harsh exhaust gas environmental requirements during the entire life of the sensor. GPF/DPF sensors are used in gasoline or diesel engine exhaust systems to help minimize the amount of soot which is emitted from the vehicle. This reduction of soot emissions assists a cleaner vehicle operation and serves to reduce the negative impact to the environment.
NovaSensor's Particulate Fuel Sensor is available in dual and single analog output formats to measure operating and common mode pressure from the exhaust system. Our GPF/DPF sensor will increase the life of your engine and help detect cracks and other issues in gasoline and diesel particulate filters
NovaSensor can also help to customize the pressure range, outline and mating connector as per customer requirements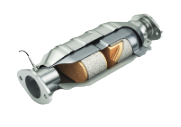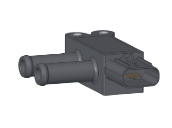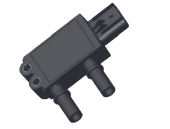 Features
Available in up/down stream pressure (dual) and single analog output formats
High reliability

Qualified for automotive applications

Operating pressure range: -1.7 to 34.5 kPa

Common mode pressure range: -35 to 70 kPa and -70 to 70 kPa.

Customized electrical connector, pressure range and pressure port options available upon request

High accuracy (1.5 to 2% FS error depending on temperature range)

Temperature range: -40°C to 140°C

Compatible with exhaust gas media and acid condensates

Automotive electrical connector
Applications
Gasoline particulate filter

Diesel particulate filter
DIMENSIONS
One Analog Output: 86.74mm x 60mm x 24.8mm (L x W x H)

Dual Analog Output: 87mm x 63.3mm x 22mm (L x W x H)
Amphenol NovaSensor is a leading innovator in advanced sensing technologies and embedded measurement solutions customized for a wide range of applications to provide critical information for real time decisions. We offer industry-leading application expertise, rapid customization and world-class manufacturing capability to deliver the greatest value to our customers.