Telaire T6743
---
Internal
CO

2 Sensor for Automotive Applications
The Telaire T6743 Internal CO2 Sensor is a nondispersive infrared (NDIR) CO2 sensor that implements a single channel diffusion sampling method for automotive HVAC applications, including automatic fresh air control and safety sensing for CO2 refrigerants.
Along with the patented ABC Logic™ lifetime calibration warranty, its low power consumption, compact design and simple product integration, make this an affordable gas sensing solution. All units are factory-calibrated to measure CO2 concentration levels up to 5,000 ppm.
For safety - Measure and control in-cabin CO2

levels to prevent driver drowsiness.
For energy savings - Reduce variations in heating and cooling in-cabin through demand control ventilation.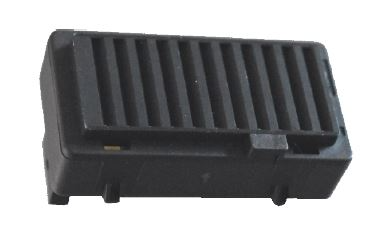 Automotive HVAC - In-cabin air quality and comfort control
ABC Logic™ - Lifetime calibration warranty
Lin 2.0 output
Low power consumption
Compact design
Versatile interface for simple product integration
Factory-calibrated to measure CO2

concentration levels up to 5,000 ppm
Adjustable firmware variables
Custom packaging options
Subject to commercial consideration customization of firmware, connector and enclosure is possible
ABC Logic
Automatic Background Calibration – The algorithm that uses ambient air concentrations to adjust the sensor and compensate sensor long-term drift.
Adjustment cycle period is 12 – 192 hours of operation in active mode. Practical adjustment cycle depends on operating conditions.

Measurement Range
Air Quality Control: 400 – 5,000 ppm CO2
Safety Alarm for Air Quality Control and CO2: 400 – 40,000 ppm CO2
Output Range
0 – 65,000 ppm CO2
Measurement Period
Active Mode: 5 seconds
Low Power Mode: 5 minutes
Sleep Mode: 12 hours
Timing of these modes can be configured per customer requirements.
Resolution and Repeatability
Internal Sensor Resolution: 1 ppm
Repeatability: 30 ppm at 1000 ppm (Typical)
Accuracy in Active Mode
Range: 400 ppm to 5,000 ppm
±200 ppm or 10% of the reading, whichever is greater @ 0 to 50°C
Range: 5,000 ppm to 40,000 ppm (4%)
10% of the reading @ 0 to 50°C
Temperature Dependence
Additional 0.5% of reading per °C or 5 PPM/C, whichever is greater outside the range 0 to 50°C
Pressure Dependence
0.135% of the reading per mm Hg
Response Time (90% of Step Change)
Active Mode: <40 seconds, dependent on test regime (Typical)
Warm-Up Time
First measurements in:
< 5 sec after power-up
< 2 minutes maximum accuracy in Active Mode
Total Lifetime
130,000 hours, limited by microcontroller flash retention specification
Operational Lifetime
In Active Mode: 45,000 hours
Relative Humidity
0-95% non-condensing
*Please see product datasheet for more details and specifications.