Thermal Runaway Hydrogen Sensor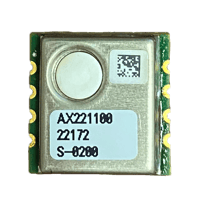 The AX221100 is a fully calibrated hydrogen
detection sensor designed for applications where
battery thermal runaway events are a concern. The
output of the sensor is a ratio metric analog output
with a detection range of 0 to 16% H2 gas
concentration.
Features
-40 to 95°C operation
Automotive Qualified (production design)
16-bit analog output
SMT package
Learn more About Thermal Runaways & Sensor Technology
Visit our Thermal Runaway Resource Center to explore information on thermal runaway prevention and the necessary sensor detection technology.
Ordering information
Amphenol electric vehicle sensors can be custom designed to meet the exact specifications and demands of application. Speak with one of our engineers today about your sensor technology needs.
Take This Page With You
Download our datasheet for a more detailed look at this product and its performance. Fill out the form below: