Type A040 Series NTC Thermistors
Thermometrics Type A040 Series NTC Thermistors are precision, solid state temperature sensors, that are fully electrically-insulated in a miniature package size. The non contact infrared thermometer A040 package includes:
Interchangeable NTC Chip Thermistor, which produces a tight interchangeable tolerance against our published resistance versus temperature curve.
These thermistors also exhibit excellent stability across the interchangeable range.
Insulated lead wires consisting of #40 AWG Ni-alloy, heavy build polyester. The leadwires are housed in an epoxy-filled polyimide sleeve for a controlled diameter.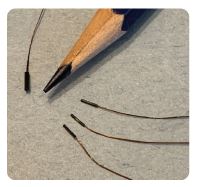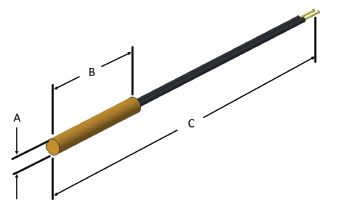 Specifications
Max OD: 0.020 in.
Resistance at 25°C: 2252Ω (400 Series) and 10KΩ
Interchangeability: ±0.2°C from 10°C to 40°C
Insulated Leads : #40 AWG Ni-alloy, Heavy Build Polyester
Applications
Surgical Assemblies
Myocardial Assemblies
Cranial Catheters
IV Fluid Temperature Assemblies


SKU

Part Name

R(25)

Dimensions (ref)

500077

A040B-UBCF16:001

2252Ω

"A": 0.019"
"B": 0.388"
"C": 2.562"

508357(1)

A040A-UBCF16:001A

10KΩ

"A": 0.019"
"B": 0.156"
"C": 2.562"

508623(1)

A040B/1-UBC16F:001

2252Ω(2)

"A": 0.019"
"B": 0.388"
"C": 29.53"

Note (1): RoHS Compliant
Note (2): ±0.2°C from 25°C to 40°C

Product INFORMATION
ORDERING
Amphenol medical sensors can be custom designed to meet the exact specifications and demands of application. Speak with one of our engineers today about your sensor technology needs:
Take This Page With You
Download a PDF of this product's information. Fill out the form below:
Medical Disclaimer: You are hereby advised that Amphenol Advanced Sensors has not performed any biocompatibility or clinical testing of these products. The responsibility to ensure that all products comply with all applicable federal, state, and local laws lies with the OEM manufacturer or user.