Type 95 Series NTC Thermistors for Medical
Thermometrics Type 95 Series NTC Thermistors are precision, solid state temperature sensors, providing high reliability and stability over an interchangeable range.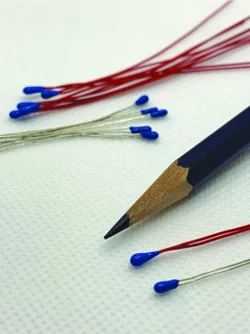 Features
Interchangeable NTC Chip Thermistor, which produces a tight interchangeable
tolerance against our published resistance versus temperature curves.
These thermistors exhibit excellent stability across the interchangeable range.
Resin coating for mechanical strength and resistance to solvents.
Flexible bare leads for the DC and EC style, and fully insulated leads for the TK style.
Applications
General patient probes
Blood (fluid) analyzers
Cleaning / disinfection
Oxygenators
General equipment
Air temperature
Specifications
Max OD: 0.095" (2.4mm)

Resistance at 25°C: 2kΩ to 100kΩ




Featuring: 2252Ω (400 series), 10kΩ




(25/85 Beta of 3977K, 3969K, and 3690K)

Interchangeability




"U": ±0.2°C from -20°C to 50°C (EC)




"V": ±0.1°C from 0°C to 70°C (DC, EC, and TK)




"W": ±0.2°C from 0°C to 70°C (DC, EC, and TK)




"Z": ±0.2°C from 0°C to 100°C (DC and EC)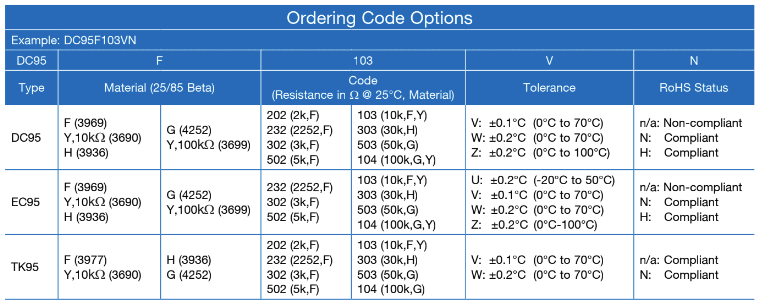 Product Information Ordering
Amphenol medical sensors can be custom designed to meet the exact specifications and demands of application. Speak with one of our engineers today about your sensor technology needs:
Take This Page With You
Download a PDF of this product's information. Fill out the form below:
Medical Disclaimer "You are hereby advised that Amphenol Advanced Sensors has not performed any biocompatibility or clinical testing of these products. The responsibility to ensure that all products comply with all applicable federal, state, and local laws lies with the OEM manufacturer or user."