Temperature Sensing for Medical Devices
---
Medical applications demand the ultimate in accurate and reliable monitoring of critical temperature measurement.
From the Amphenol Advanced Sensors family of brands, Thermometrics, Inc., designs and manufactures an extensive line of NTC thermistors and non-contact infrared (IR) based temperature sensors for this vital market.
In addition to our standard product offerings, Amphenol Advanced Sensors prides itself in our ability to customize a unique solution for each customer's application needs.
Whether superior resistance stability, tight temperature accuracy, small diameter, fast response, or all the above are critical for your design, our team is ready to partner with you.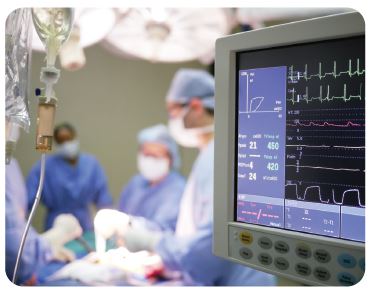 Application Offerings for Temperature Sensing for Medical Devices

Cardiac Care

Small diameter chip-in-glassor glass bead thermistor assemblies for thermodilution catheters and continuous cardiac output systems.

Respiratory Care

Glass diode or epoxy-coated chip thermistors for temperature monitoring of ventilator flow tubes and humidifiers.

>> Type Glass Diode >> Type 95 >> Type CR1

Skin Surface

Interchangeable thermistor assemblies with temperature accuracy of ±0.05°C @37°C for continuous patient monitoring and neonatal incubator systems.

Thermometry

Interchangeable thermistors and IR sensors for oral, rectal, tympanic, and auxiliary temperature measurements for predictive, clinical, or home thermometers.

Dialysis

Small interchangeable thermistors for assembly into metal housings used to monitor fluid temperature during dialysis.

Surgical

Miniature chip-in-glass or sleeved chip thermistors with fine diameter wires for insertion into hypodermic needles for myocardial surgeries and external attachment to metal lumens used during laser surgery.

>> Type SC >> Type MA >> Type ZTP
PRODUCT INFORMATION ORDERING
Amphenol medical sensors can be custom designed to meet the exact specifications and demands of application. Speak with one of our engineers today about your sensor technology needs:
Take This Page With You
Download a PDF of this page's information. Fill out the form below:
Medical Disclaimer: "You are hereby advised that Amphenol Advanced Sensors has not performed any biocompatibility or clinical testing of these products. The responsibility to ensure that all products comply with all applicable federal, state, and local laws lies with the OEM manufacturer or user."